Woodworking is an art form that has been celebrated for centuries. From ancient furniture making to modern-day cabinetry and sculpting, woodworking involves the skillful crafting of wood into a beautiful product. Whether you are a novice or experienced in the craft of woodworking, it's important to understand some fundamentals of this art form before getting started.
Woodworking basics
Building useful, usable wood objects requires the talent of woodworking. Additionally, you must use some tools. You can create anything, from a dog house to extraordinary furniture for your home; there are no restrictions.
While some people might consider having a woodworking business or job, that's not the usual case anymore! Woodworking is now a creative and emotional outlet. Making the world a better place is a passion shared by millions of people who create a ton of beautiful and original DIY projects.
Before getting into any technicalities, here are some essential advice for beginners. These will help you navigate this vast ocean of woodworking with ease.
Start small
The biggest error beginners make is taking inspiration from the large projects they see on Pinterest completed by seasoned woodworkers and deciding to start on something comparable.
Exercise caution and start with simple woodworking projects, preferably close to home. By doing so, you can accomplish two goals at once and construct them as you study.
It would be best if you started with outdoor goods to hone your carpentry skills because they don't require as much precision as a new sofa table might. Outdoor objects are perfect for this.
Get inspiration
The greatest time to begin studying woodworking is right now. The DIY generation has produced thousands of exquisite and artistic projects, all available online. Viewing the finished products and images can motivate and unleash your creativity.
The plans are presented in a very organized fashion with detailed directions so you can easily follow them. You only need to invest time; they contain the necessary dimensions, cut lists, tools, and materials. Maintaining motivation is crucial, so try to construct things that appeal to you and look good.
Set up a workplace
For woodworking, you must have a woodworking space that is both secure and sizable. Finding a location in your house where you can use your tools and produce noise can be difficult.
A risky work environment has too many extension cords, unstable surfaces, and inadequate ventilation. If you cannot find a suitable area in your home, consider working outside on a beautiful day. Using a pair of sawhorses and a half sheet of 34″ plywood, a great workspace may be created for the lowest possible cost.
Plan & practice
Although woodworking is rewarding, you will need to work hard to achieve perfection in the quality of your finished creations.
Making a project plan in advance helps you have a smoother project completion and prevents you from making any mistakes. You will be prepared with a list of all the equipment, the number of materials, the budget, and the time you will need to devote to the project. This enables you to finish the project on schedule while also saving time.
Your skills will improve one project at a time as you learn from your mistakes. The most important thing is to like what you are doing; if you are passionate enough, you will succeed.
Choosing the right tools
Woodworking is like returning to school. It's similar to taking craft lessons and learning to cut, glue, and mark materials to create a lovely work of art.
Woodworking tools come in two varieties: hand tools and power tools. Most of the labor can be completed using hand tools. On the other hand, power tools are far more sophisticated but need greater skill and safety precautions.
Getting some fundamental hand tools and a few power tools is the best way to start. Doing so may expand your investment while maintaining the flexibility to upgrade your tools as your business develops.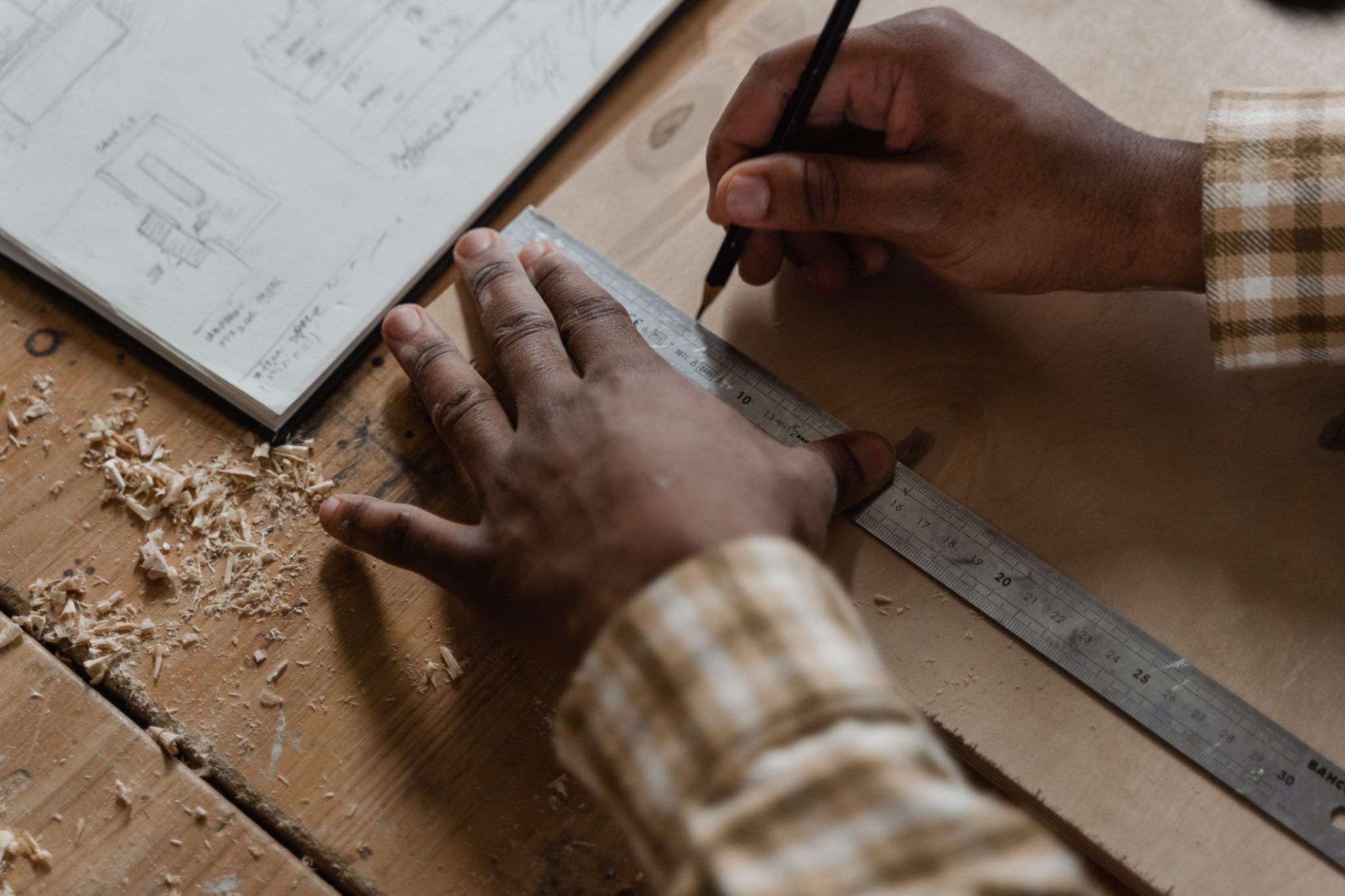 Basic woodworking skills for beginners
You are now mentally prepared to board the ship, so let's acquire some fundamental skills that will give you self-assurance.
While there are several woodworking tricks out there, these skills will make it clear that you can also execute many woodworking tasks using affordable or exceptional tools.
Drilling
Working on practically any DIY project involves drilling holes. The most effective tool for this is a cordless drill because they are highly effective, reliable, and affordable. They assist you in various tasks, including tightening screws and drilling holes of any size into multiple materials.
A drill is straightforward to use, but there are a few tactics and tips you can pick up to improve your usage of it and get the most out of it.
Cutting
You can cut the materials in various ways, including jigsaws, table saws, circular saws, and other tools. However, a jig saw and a hand saw are the most cost effective and suitable for 85–90% of your jobs.
Jig saw
Jig saw is an excellent tool for practically any job. It is a fantastic all-purpose saw with a reciprocating blade. They perform well for cutting curves and unusual cuts but could be better when you want to make precisely straight cuts. These blades are reasonably priced, compact, and simple to switch out for cutting various materials.
Hand saws
These work well for rapid, straight cuts that don't require much accuracy. Although it's the best option for beginners who want to get started quickly and with a small investment, it has the drawback that you need different saws for different materials. You will incur an additional expense, but not a significant one.
Suppose you want to produce more precise cuts. In that case, you can use a circular saw, which is very powerful and calls for a competent carpenter. They are ideal for cutting various materials with lengthy, straight, and accurate cuts.
Understanding wood
Knowing the direction to place the wood board in is crucial and how to position it correctly is vital. The same is true while picking out the timber.
It's important to plane the board in the direction that best suits the wood's grain. Like caressing a cat, the hairs will lie down smoothly if you proceed from head to tail. The wood is also impacted by the humidity (contraction & expansion).
Similar to how different wood varieties respond differently to meteorological conditions. Their other moisture contents will impact the glue, paint, and stain you use.
Sharpening your tools
A common concept among woodworkers holds that to make things run smoothly; one must "let the tool do the work." If your hand plane or saw requires a lot of push to shave or cut, you must understand that you are doing it wrong.
It would be best if you made it a practice to sharpen your tools. It is among the most crucial foundational abilities because dull tools can be risky and ineffective.
Cut a mortise and tenon joint
The most basic type of joint used in woodworking is the mortise joint. By interlocking them at a 90-degree angle, two parts that are horizontal and vertical can be linked (like a chair rail and a leg). A tenon can be inserted into the mortise to accomplish this.
A decent practice of employing the technique can assist you in getting a great and tight fit. There are various techniques for creating a mortise and calculating the tenon's width. The tenon is cut with a few straight saw strokes.
Once you master the art of laying this joint precisely, the doors to the world of woodworking will open and welcome you.
Cut dovetail joints
A dovetail joint is the most popular and reliable method of joining the board corners if you're making a box. The wedge-shaped "tails" with a one-sided cut that fits into the "pins" are involved. The unsightly joinery was covered up with paint or molding.
Creating dovetail joints has become a litmus test for serious woodworkers, but feel free to give it a try.
Painting & finishing
The crucial concern is how you will finish and give it a professional look after spending hours creating your perfect woodworking project.
Finishing enhances aesthetics and safeguards the integrity of the construction. So take your time with this.
People use different types of finishes for their projects. Shellac and paint are both used by some. A nice paint is usually used for the basic finish. The sort of material you will put it on will determine which of the two regularly used paint types you should use.
Latex paint – a water-based paint used in the majority of everyday applications. By using soap and water, it is simple to clean. Additionally, applying it to materials is simple and lasting.
Oil-based paint – Although this paint sticks to the surfaces better, cleanup is more complicated. Oil-based paint should be used when painting over an oil-based paint covering.
The next step is to select the sheen after selecting the paint (flat to gloss). A glossy finish will be more durable, while flat paint will conceal flaws better.
Safety considerations
Woodworking might become a nightmare if you don't adhere to the fundamental safety guidelines.
Most of them were brought on by failure to take measures, so carefully read the most crucial section of this beginner's guide to woodworking.
Use protective eyewear at all times.
Put on appropriate attire.
Put on safety footwear.
Keep in mind to unplug the power cord when necessary.
Refrain from being distracted while working.
Keep a fire extinguisher nearby your place of employment.
There should be sufficient lighting and ventilation.
Using a table saw, be sure there is a splitter.
When a machine is running, avoid manually cleaning the cutting head of sawdust or debris; instead, use a stick or a brush once the machine has stopped.
Always do proper grounding of electrical equipment.
Never use compressed air to clean sawdust, turnings, or other debris off equipment or clothing.
Sharpen your cutting edges and implements.
Placing masking tape along the area that will be cut will help to prevent the wood fibers from splintering and is a simple approach to avoid splintering of wood.
Woodworking ideas & projects to try
Ready to start your first project? Avoid making an enormous output like a shed for your first project; you can always start small. This way, you can begin without big capital and enhance your woodworking skills.
These fantastic projects allow you to practice some fundamental woodworking techniques like table sawing, sanding, joining pieces of wood with glue, planning, and more. You can also make a profit from woodworking!
Here are some beginner-friendly woodworking projects you can complete without buying costly woodworking tools.
Cutting board
Making a cutting board for one of your initial basic woodworking jobs needs to come naturally to you. How difficult can it be, after all? Take a piece of wood, cut it to the desired dimensions, plane it, router the edges smooth, carve some decorative grooves, thoroughly sand it, and add your preferred finish, and you're done.
It should be noted that while a thickness planer is recommended, you can use a good old hand plane instead. The same is true for the table saw, which you can replace with less expensive options like a competent circular saw or a handsaw that can cut rip lumber.
Simple storage box
Construct a simple storage box that you may utilize for various purposes. This box can be handy for organizing your children's toys or storing woodworking supplies in your workshop.
The best feature is how simple it is to assemble this box. Furthermore, you won't need any expensive tools to create this, and only a little can go wrong when you're making it.
Address number with wall planter
Welcome guests with a wooden address number wall planter to let them know this home is home to a self-taught woodworker. This novice woodworking project is a perfect example of how things can have charm simply by being straightforward.
Conclusion
Woodworking is an exciting and rewarding hobby that can bring immense joy and satisfaction to those who take part. The tools and materials needed are relatively inexpensive compared to other hobbies. With a bit of practice, anyone can become a master woodworker in no time. It's also a great way to learn new skills, express your creativity, and explore the world of woodworking.